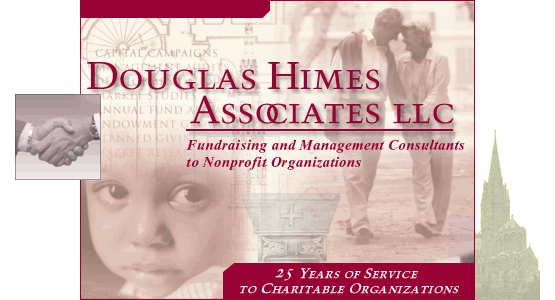 All nonprofit organizations need money, whether it be for annual operating expenses, capital projects, endowment, or a combination of these. Most organizations must raise money to support their programs and goals. The effectiveness of their fundraising efforts will determine the health—perhaps even the survival—of the organization.
Fundraising is both a science and an art. It embodies a range of scientific techniques developed and refined over hundreds of years, but it also requires perceptive human judgment at every step. Effective fundraising is much more than convincing people to part with their resources. It involves a complex match between the charitable needs of the organization—for money and other support—and the personal needs of the donor: to feel needed, to belong to something greater than himself or herself, and to give of his or her resources to make the world a better place. Meeting these various needs is the essence of effective fundraising.
Douglas Himes Associates subscribes to the Fair Practice Code of the American Association of Fundraising Counsel and the Code of Ethical Principles established by the Association of Fundraising Professionals.
website by bScene